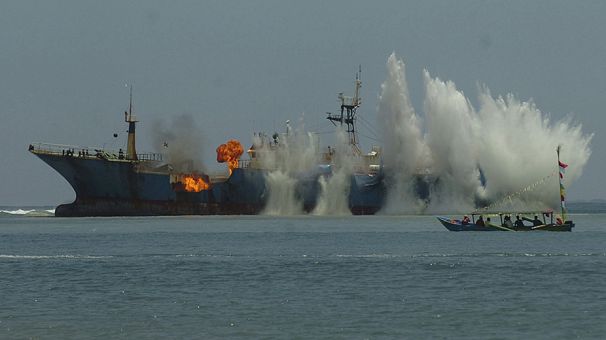 Indonesia's president expressed pride Monday after authorities bombed a ship wanted by Interpol for the illegal fishing of protected toothfish in the waters of several countries.
"Half the body of the FV Viking will be sunk in Pangandaran [West Java] to serve as a monument against illegal fishing," Joko Widodo posted on his Twitter account alongside a photo of the Nigeria-flagged ship.
The president – whose government sinks boats under its anti-poaching policy – said the vessel had engaged in illegal fishing in other countries' waters, becoming a fugitive in 13 of them over the years.
Nigeria's government has denied that it was registered with their authorities.
Video footage released by Indonesia's Ministry of Maritime Affairs and Fisheries on Monday showed plumes of black smoke rising from the ship, which did not sink immediately after explosives were detonated.
Minister Susi Pudjiastuti said, "this is evidence that the Indonesian government is not playing when it comes to combating perpetrators of illegal fishing, which is irresponsible and extremely detrimental to the Indonesian government."
Detik.com quoted Susi as insisting that the FV Viking is a clear example of illegal fishing being transnational organized crime that is "harassing the sovereignty of many countries" and "should not be condoned".
The vessel had been seized by an Indonesian warship on Feb. 25 in waters off the Riau Islands, before being transported to the coast of Pangandaran.
The capture was seen as the biggest success under Indonesia's current anti-illegal fishing policy, which has led to the sinking of more than 100 vessels since 2014 – including that of 30 ships, most of them foreign, last month.
The FV Viking – the last of six vessels called the "Bandit Six" accused of catching rare Antarctica toothfish and Patagonia toothfish – had changed its name 13 times, its flag 12 times and its call sign eight times, according to an Interpol Purple Notice.
Indonesian authorities will charge its 11 crewmembers – nationals of Argentina, Peru, Myanmar and Indonesia – with violating laws on shipping and fishing.
Among them, the ship's Indonesian engine room head told The Jakarta Post, that an agency had recruited him in 2013 and he did not know that the crew was involved in illegal activities.
"I received a monthly salary of $400 and I returned to Indonesia only twice during my time as a crewmember," Agus Subianto, 35, said.
"I didn't know that this fish was a protected species. I was just working on the vessel."
Indonesian officials who were assisted by Norwegian and Canadian authorities in searching the vessel after its capture had discovered several documents with information indicating that the caught fish often ended up in Thailand.
Other documents reportedly showed that the vessel had often docked in Singapore to refill supplies and undergo repair.